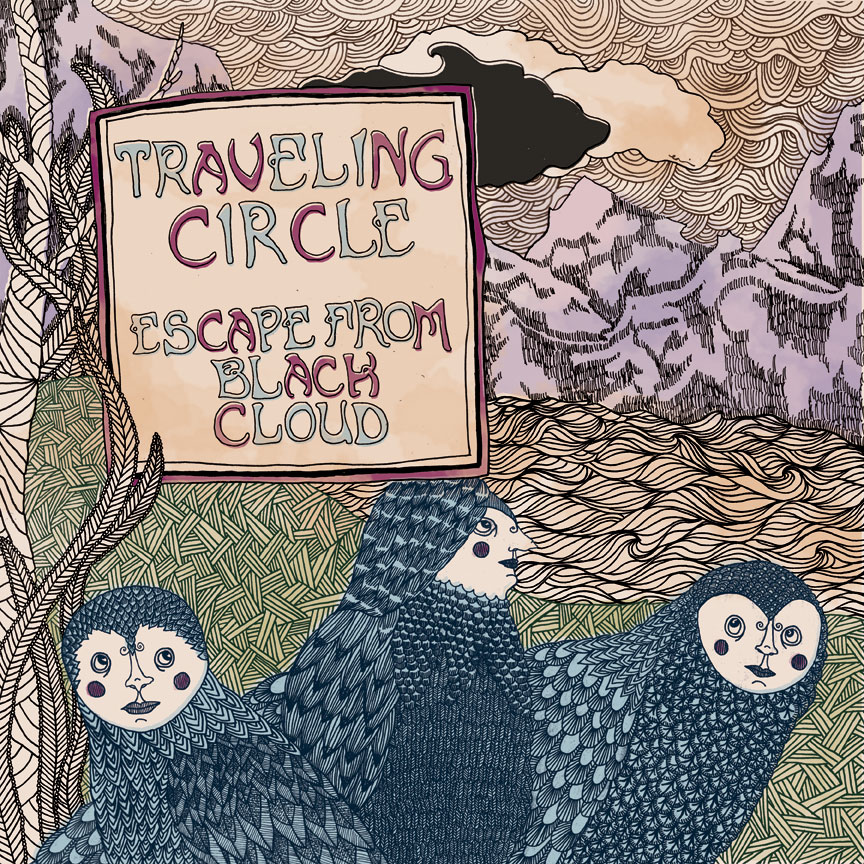 Find yourself craving desert rock with a east-coast edge? Look no further than the new Traveling Circle LP, Escape From Black Cloud, ''an alchemy of disparate musical ingredients that will awaken your senses, clear the dormant catacombs of your mind and spin-cycle your neural fabric.'' - Review by Daniel Sharman.
Released in: 2012
Genre: Electric Progressive psychedelia/Desert rock
Record Label: Nasoni Records
Medium: Black Vinyl, Coloured Vinyl
Recorded at: Seaside Lounge in Brooklyn, NY
As of late, I've recently found myself craving some fresh, interesting desert rock to listen to, partly due to my recent interview with Nik Rayne of the fantastic Arizona desert-psych outfit, The Myrrors. To quote Dexter Romweber of the Flat Duo Jets, 'some things come your way when you want 'em', and much to my surprise, they have indeed it seems.
Now, when I was first contacted by the Circle's drummer, Joshua Schultz, I wasn't quite sure what to expect judging from the band's name and ascetic, but like most bands, the music truly spoke volumes incommunicable by any of it's creators. Travelling Circle is one of those bands truly worthy of the phrase 'you've never heard of them but, you really, really should'.
When I think Escape From Black Cloud, I think of a mellower, more melody-focused version of a Wooden Shjips LP. The outfit seem to evoke and forge the same sort of lulling, hypnotic vibe and spaced out grooves as the San Francisco four-piece but, by using a different mixture of ingredients.
Driving, sustained guitar leads are lush and plentiful in this album, often becoming the main basis for a songs rhythmic and melodic section, and rightly so, perfectly complementing the airy, falsetto vocals. It is clear that the band's guitarist, and the whole band in general for that matter, put a great amount of thought and care into their 'sound' and set-up, often being very tasteful with the effects imposed on the guitar sections and being sure not to over-expose instruments to modulating devices.
Even though opening tracks such as, Higher and The Candlelight Sway, provide intense, high-calibre bouts of fuzz and volume, later tracks such as, Newborn Shadow, adopt a calmer style, bestowing upon the listener a welcome change in pace and making the later tracks, which share the similar sound of the first two tracks, infinitely sweeter and more enjoyable.
It is also worth noting that most of the songs often tend to indulge themselves in their instrumental sections, normally dwelling on the relationship between the guitar and the drums. The drums, which, may I add, take a welcome approach tonally, not often heard on many rock records, opting for more of a Arabic, exotic sound.
If I had to harbour one complaint about the album, I would comment on the repetitiveness of the vocals, but due to the space-rock inclination of the band, simple lyrics tend to lend themselves to the rest of the music's rhythm section. And, even though the album does start to trail off towards the end, you have to understand, it's that kind of party.
If you find yourself, like me, yearning for a sizeable dose of solid, refreshing, effects-friendly desert-space rock, look now further than Escape From Black Cloud. Not only will this LP keep you entertained for a healthy 35 minutes, it's title track Higher has a vast amount of re-playability.
Critics Comment: This album exceeds expectations in nearly all areas, begging the question, why is this the first we've heard of Travelling Circle? Get ready for a fully-stereo, fuzz driven thrill ride that will sit snugly into your Sunday evening and beyond...and yes, it's true bypass.
You can read Do You Even Psychedelic?'s interview with the band here!
You can find the whole of the new album
here!
Like the band's Facebook page to keep up with events here!